ENOCH of New Jersey e-Newsletter
APRIL 2011
From the President's Desk
MARK YOUR CALENDAR
ENOCH'S 21ST ANNUAL HOMESCHOOL CONVENTION
JUNE 17th – 18th, 2011

Please note the date change
Dear Friends,
I am excited about this year's upcoming ENOCH convention. We have two great keynote speakers, and an exciting teen program from Worldview Academy, and the list of exhibitors grow every week. I would love to see all of you at the convention, I know that is not possible, but please make an effort to attend if you can. Check out the convention update information in the article below.
But now I want to turn the page to another topic. Recently I was talking with a friend about something that has not been an issue to homeschooling in this state, but in many other states it is. The issue was school vouchers. This is somewhat of a controversial topic among parents, public and private educators, homeschoolers included. Although it seems like a good idea - the government giving you money to homeschool your children – sounds good, but at what cost? Is there something more? Maybe not right away, but eventually the government will come with strings attached, telling you what you can and cannot teach your children at home. One way they can do this is to try to regulate homeschooling in New Jersey. We are very fortunate here in New Jersey that we can homeschool with such freedom. We do not want the government to regulate the homeschoolers in our state. HSLDA has an informative analysis of this issue at http://www.hslda.org/docs/nche/000002/00000251.asp, even though it was written in 2002 the information still holds true.
I felt to pass this thought along as food for thought. Our attorney from HSLDA, Scott Woodruff, will be attending our convention this year and will be speaking in a few workshops. I would encourage you to stop by the HSLDA booth and speak with him if you have any concerns.
We at ENOCH look forward to seeing you in June.
In His service,
Rich Millward
President
Encouraging Words From Homeschoolers Across the Nation
HOMESCHOOLING FROM THE HEART


by Stacie Ruth Stoelting
As a Christian recording artist, author, speaker, and radio host, I give all glory to Jesus and desire to seek Him as I look to the future. But I also thank Him for what lies
behind
! You see, I believe God used home education to equip me for a bright, faith-filled future.
In a nutshell, homeschooling remains
more
than worth it! In the fall of 1993, our family began the home education adventure. I firmly believe that God opened the door to homeschooling, which He then used to prepare us for more opened doors ranging from singing for President George W. Bush, Governor Mike Huckabee, Governor Sarah Palin, international media, etc.
At fifteen, I wrote my first book,
Still Holding Hands-Ray and Hilda Beamer's Story of Love and Triumph over Alzheimer's Disease
. Different conservative Christian leaders endorsed it. After its publication, I spoke often for Alzheimer's Association conferences, continuing education meetings, churches, and other special events. I then began singing.
My sister, Carrie Beth, later joined me in music ministry. Today, we thank God for opportunities to sing for Him and to Him. (We call it "pray-singing" because it's far more than performance.) Whether crowds of thousands are present or whether we're alone at home, we sing to an audience of One: Jesus Christ.
When I glance at the past, I thank God for home education. And I feel sincerely humbled to write this article with tips and lessons learned from home education. With that shared, here are a few ways the Lord allowed our family to endure and enjoy home education:
Tips to Endure and Enjoy Home Education
Pray

. Pray and thank God for the opportunity to homeschool. My dad would pray every evening and say, "We thank You for the opportunity to homeschool." This set a great example. Why? Well, we all must gratefully, humbly, and whole-heartedly lean on the Lord for strength, wisdom, and grace. If you think it would help, join our online prayer group for extra prayer. www.PrayingPals.org unites +2,350 prayer warriors to pray each week. "Pray without ceasing" remains our goal.



Prepare.

Identify triggers for burn-out and prayerfully prepare accordingly. Research. Find a "theme Scripture" for your homeschool.



Pep up with praise!

Keep a Heavenly perspective on your earthly home. Look up at your Heavenly Father. Include praise every day. Ways to integrate praise include a praise board (dry eraser board), praise book (recording blessings from each day), playing soft praise music during the day (i.e. solo piano), etc. After my sister and I witnessed a fatal accident, we learned the importance of looking up at Jesus and letting Him change our perspective. (We sing to Him and share His Heavenly hope in our album,

Heavenly

, which was recorded with conservative Christian Grammy and Dove winners.)



Persevere.

The peer pressure often rears its ugly head. But it's a mirage. The whole "high school" experience passes quicker than you think. I'm so thankful that I didn't compromise. God allowed me to sing for President George W. Bush. I believe that opportunity would have been an impossibility without God using home education!



Pursue love.

(That's how I Corinthians 14 begins: "Pursue love…") Make yourself at home in His love and invite Him to homeschool your heart as you homeschool your children. If you spare the rod, you spoil the child. But if you spare the love of God, you spoil the child. The child needs a constant, unconditional source of the true love of God expressed in I Corinthians 13.



Push away pride.

Believe it or not, sometimes pride infiltrates homeschooling. I recently heard from a very hurt public school student, whose parents won't home educate. The student feels left out at public school

and

by homeschoolers who won't associate with her either. Oh, my homeschooling friends, let's remember to reach out to all with the love of Jesus. We're not better than others. We're simply blessed by our gracious God to educate at home!



Press on! Don't compromise. Keep your eyes on the prize!

Run with His strength –not your own. This challenge seems almost omnipresent along the homeschooling journey. But guess what? Our great, loving God remains omnipresent. He will help you! Remember these verses of truth: "But insofar as you are sharing Christ's sufferings, rejoice, so that when His glory [full of radiance and splendor] is revealed, you may also rejoice with triumph [exultantly]"(I Peter 4:13, AMP). "Since then we have a great high priest who has passed through the heavens, Jesus, the Son of God, let us hold fast our confession. For we do not have a high priest who is unable to sympathize with our weaknesses, but one who in every respect has been tempted as we are, yet without sin. Let us then with confidence draw near to the throne of grace, that we may receive mercy and find grace to help in time of need" (Hebrews 4:14-16, ESV).
Yes, I share a lot of Scripture in my writings. (I do that when I write features for "the number one Christian web site" or for a short devotional.) I always try hard to let God's Word take precedence and prominence. It's something I learned. In fact, it's something I learned at home. Imagine that!
I hope your family will join me in trusting God and taking His Word as the final word: "But the path of the [uncompromisingly] just and righteous is like the light of dawn, that shines more and more (brighter and clearer) until [it reaches its full strength and glory in] the perfect day [to be prepared]" (Proverbs 4:18, AMP).
Stacie Ruth Stoelting © 2010- PO Box 558 Cherokee, Iowa 51012 -712-225-2161
stacieruth@brightlightministry.com
www.brightlightministries.com
Witnessing a fatal accident and praying with the dying victim, losing loved ones to cancer and Alzheimer's, enduring chronic pain, and other trials... These challenges drove Stacie Ruth Stoelting closer to Christ. Today, she shares God's truth and love with people currently struggling. God called her at an early age: At age 15, she wrote a book (Still Holding Hands), endorsed by famous Christian leaders. God opened doors for her to sing for the 43rd President, be pictured in major media (i.e. The New York Times, USA Today), write features for CBN.com, and keynote conferences. But she counts all nothing compared to Jesus! Life's blows hurt her, but Jesus heals and strengthens her: Stacie Ruth and her sister, Carrie Beth, recorded Heavenly with Grammy and Dove winners. They recorded it for two reasons: to give glory to their Heavenly King and to help His followers catch a Heavenly perspective on earthly problems. As Stacie and Carrie know, people fail and times change. But Jesus remains the same! He is good. He is her treasure. To watch video clips, worship Jesus with music from her album, or get in touch, visit www.brightlightministries.com. (Going thru a rough time? Stacie Ruth also invites you to join her prayer group at www.PrayingPals.org.)
THE VALUE OF HOMESCHOOL CONVENTIONS
By Amelia Harper and Deborah Wuehler

If you are like most of us, you are probably just a tad discouraged about now. You are in the thick of homeschooling. Lessons are a little behind schedule, especially after the holidays. The curriculum you chose just isn't working out the way you hoped. Somewhere down the line, the organizational charts have disappeared and you suspect that the dog ate them. Your kids have started to ask questions that you can't answer, and you may feel very, very alone. Boarding school is starting to look like an attractive option.
Cheer up! Homeschool convention season is just around the corner!
Homeschool conventions are a great place to learn what went wrong and to share the excitement of what went right during your homeschooling year. You can learn how to get better organized, find new answers to puzzling problems, grow encouraged, and do what homeschooling moms love to do most—shop for new school materials!
Homeschooling conventions have grown tremendously as the market itself has grown. Almost every state now hosts at least one homeschool convention, with more active states hosting several. Vendors vie for slots at these conventions, eager to display their wares. Speakers get valuable exposure, while attendees benefit from the wisdom that they share.
According to Nancy St. Marie, Past Convention Vice President for North Carolinians for Home Education (NCHE), the true success of a state convention is not measured in terms of its present size, but in terms of its growth. "The 'best' conference is the one that meets the needs of the homeschoolers who attend," she said. "The best measure of this is that the conference is still going and growing. In North Carolina, we feel we are reaching a large portion of the homeschoolers in our state, but we are always trying to do it better."
Whether large or small, homeschool conventions offer a wide variety of events to help and encourage those who have chosen the path of homeschooling. Conventions vary widely in scope and offerings. Often these factors depend on the size of the homeschooling population in the state, the structure of the state homeschool organization, and the length of time a convention has been held in that state. Some larger conventions offer graduation programs, talent shows, and special programs for school age children and teens. Some conventions are broad in scope and present a wide variety of ideas and approaches for attendees to explore, whereas others are focused on certain ideals or approaches.
Convention organizers estimate that between 20 and 30 percent of convention attendees are either new homeschoolers or those considering the possibility. Most of the rest are veteran homeschoolers who are looking for new ideas and desiring to increase their knowledge. A few attendees are business people, there to connect with publishers or vendors. The rest consist of the curious: those who simply want to know more about the homeschool community.
Some of the convention terms may be confusing to first time conventioneers. However, most conventions offer the following activities, often expressed in these terms.
KEYNOTE ADDRESSES
—Keynote addresses are typically speeches given by a nationally-known homeschooling figure and deal with issues that are relevant to most homeschoolers. They are often the most inspiring and encouraging speeches given. Usually, these keynote addresses are scheduled so that they are the only event offered in that time period. Announcements pertaining to the convention are also usually made during this time, so it is important to attend these sessions, if possible.
WORKSHOPS OR SESSIONS
—These sessions generally run an hour in length and deal with specific issues regarding homeschooling or family life. Usually, several of these run concurrently and you have to choose the ones that suit your needs. Most convention programs provide a brief description of the workshop as well as codes that indicate whether the workshop is more appropriate for moms of young children, moms of elementary or secondary-level students, dads, teens, etc. This information will help you select the workshops best for you. If you want to attend more sessions than are physically possible, CDs are usually available for purchase.
VENDOR HALL or EXHIBIT HALL
—Vendors of curriculum and related homeschool products gather here to display and sell their products. In addition, experienced homeschooling parents are beginning to develop more curriculum products on their own as they discover what works best for them and begin to fill needed gaps in the market. Small conventions may have only a few vendors, whereas large conventions may have 150 or more. However, you are sure to see some new products wherever you go. Some conventions also offer a used curriculum area so that parents can swap or sell their old books.
Perhaps you have heard of homeschool conventions for years, but have never bothered to attend one. Perhaps this whole idea is new to you. Or perhaps it has just been too difficult to attend. Attending a convention may involve finding an accommodating friend or relative to keep the young ones.
Therefore, you may be wondering why you should go to all the time, trouble, and expense of attending a convention. What benefits can attendance give you? Is it really worth it? Before you make a decision, first look at the many great reasons you should attend a convention. Here are some factors you may want to consider before you decide to join the growing ranks of homeschool conventioneers.
The Wow Factor
"The first benefit is always the "Wow" factor when someone arrives at the convention," explained Cheryl Boglioli, former State Chairman of the Florida Parent Educator's Convention (FPEA). "It is an awesome experience to realize that you are not alone in this endeavor and there are so many families of all walks of life with the same objectives."
"Awesome" is also how Scott Adams describes his first convention trip to the North Carolina Convention last year. Scott has four small children, but the concept of homeschooling is one that is fairly new to him—an idea that he at first greeted with skepticism. "I was surprised by the attendance. It was amazing seeing all those families there—and there were far more men there than I expected. It really changed my view of homeschooling. It is one thing to hear about the numbers of families that are doing it; it is another to actually see them gathered together!"
The Encouragement Factor
Fearful new homeschoolers as well as veterans near the end of their journey are both in desperate need of encouragement. A homeschool convention with powerful and motivating speakers provides enough encouragement for both. New homeschoolers come away feeling like they can actually accomplish what they are setting out to do and veterans are given the precious fuel they need to continue on the journey.
Kim Roper from California (CHEA) explained how conventions benefit both veterans and newcomers to the homeschool community: "Newcomers often reignite the passion for homeschooling in seasoned veterans. The veterans, in turn, often give timely wisdom and understanding to new home educators who may be discouraged."
The Camaraderie Factor
No one among us likes the feeling of being alone in our convictions. The homeschool convention provides an atmosphere of camaraderie by sharing with large numbers of families the strong conviction to provide for our own children's educational needs. It is revitalizing when we realize that we are not in this journey alone.
In addition, homeschool conventions are a great place to gather with others and discuss the successes and the failures of the past year. Learning that someone else is having the same problem is almost as beneficial as actually finding a solution! Since many homeschool parents have little support from family or community, this is especially important.
"It comes down to support," explained Kim Roper. "The Scriptures tell us, in Hebrews 10:23–25, that we should not forsake the assembling of ourselves together, but that we should encourage one another. Obviously, Paul is talking about attending church in this passage, but I believe the principle also applies to home educators. We can be an independent lot and often forget that we can't do this alone!"
The Convenience Factor
So many product catalogs come in the mail and you have so little time to read them! At a convention, large numbers of homeschool vendors are represented and the opportunity to actually see their wares is a great advantage over merely reading about them. Vendor workshops often add the ability to learn how to use the products effectively in your own homeschool.
"For vendors, the greatest part of attending conventions is meeting the people," said Christi Patterson, of Alpha Omega. "Having the time to hear their stories and helping them to find the perfect product for their students is a great benefit. The face-to-face interaction that we have at conventions is unparalleled. We have customers that specifically call and ask for reps that they met at conventions because of the bond they formed in that little time together."
The Economic Factor
Though there are costs associated with attending a convention, there are pay-offs as well. You will have the ability to compare products and prices. You can ask others for recommendations and advice that may help you avoid costly mistakes. In addition, some vendors offer special discounts at conventions.
The Spiritual Factor
Oftentimes our hearts are convicted of a certain road to travel with our families, but our minds are not totally convinced. Conventions can bring the confirmation needed that you are definitely on the right road and that you really did hear God's voice in your decisions. Most conventions offer devotional workshops that serve to remind you that God is the Source from which everything you have to offer your family flows.
"I think one of the most important reasons to attend a homeschool conference is that the Bible teaches, regarding salvation, that those with shallow roots would not flourish," explains Melanie Young, whose husband served as President of NCHE. "I think this is true of homeschooling as well."
"Over the years, the families that I have seen succeed at homeschooling are those with deep roots—a strong spiritual and philosophical basis for their homeschooling," she added. "Convention is where you get that! Convention is like a spiritual retreat where you can get away from the everyday cares of homeschooling and focus on why you are doing this—and how you can do it better. The roots that you will grow in response to the speakers and fellowship will help you weather the storms of poor health, financial difficulties, struggling learners, and unsupportive family."
The Connection Factor
Conventions are a perfect environment for renewing old connections or for connecting with groups or organizations that will help you on your journey. Memberships to national organizations as well as local organizations are made available. You are given the opportunity to reconnect with acquaintances or vendors and ask the questions that have been burning in your mind all year. Staying connected can give you the strength and support needed to keep going.
Conventions also give you the chance to evaluate organizations such as HLSDA and your state homeschool organizations to see if they will help your own family stay as connected as it should be. "I was skeptical at first about the need to join my state organization," said convention attendee Lynn Adams. Adams, who is homeschooling for the first time this year, attended her first convention in 2003. "But when I saw all that my state organization did, all the services they offered in keeping me informed, I decided that I wanted to be a part of that."
The Thinking Factor
Many homeschooling moms rarely get some time off to really think through what they would like to see happen in their homeschool. Time spent at a convention allows them the freedom and time they so desperately need to process through all of their plans and ideas. A convention offers parents a chance to gain a great deal of important information from a variety of homeschool sources.
Speakers are a big part of this equation. Homeschool conventions often gather the best and brightest stars of the homeschool community who share wonderful ideas, provoke thoughtful discussions, and make themselves available for consultation.
The Fun Factor
Homeschool conventions can be a time of laughter and fun as we reconnect with friends and share experiences—some wonderful, some disastrous, and some hilarious. Many conventions offer planned activities for the children or workshops for teens, giving the moms and dads time to shop or attend much-needed workshops or seminars themselves. Some also offer family nights where everyone is invited for an entertaining evening. Speakers and workshop leaders know first-hand the many tears and trials we go through as homeschoolers. Therefore, they are often down-to-earth and funny and can actually relate to what it takes to travel this road.
So by now, maybe you are thinking that you should look up the homeschool convention in your state and check out the possibilities. There is a light at the end of the tunnel and the homeschool convention could just be the source of inspiration and encouragement that you need. Despite the cost and travel involved, you will likely return home as a better-equipped parent. As homeschool mom Lynn Adams explained, "We all need encouragement, guidance, and ideas. Homeschool conventions have all that."
Dr. Samuel Blumenfield, renowned author and homeschool conference speaker wrote an article entitled "The Boom in Homeschool Conventions," in which he summed up their benefits this way: "I could write a book about these wonderful homeschool conventions, the families that attend them, and the fabulous entrepreneurs who offer their products to parents who truly care about their children's well-being and happiness. If you want to see the beautiful benefits of educational freedom, go to a homeschool convention. You'll love it!"
Amelia Harper, a pastor's wife and the homeschooling mother of five, is the author of Literary Lessons from The Lord of the Rings, a complete one-year literature curriculum for secondary level home schooled students, published by HomeScholar Books. She is currently also a Contributing Editor for The Old Schoolhouse Magazine, where this article first appeared.
The Very Best Education for a High School Student
by Kevin Swanson

Of the tens of thousands of hours spent in school classrooms, how much of it should we chalk up to a huge waste of time? To the extent that educational efforts fail to focus on faith and character, ignore the individuality of the child, and are hopelessly disconnected from relationships and real life application, we're just wasting time. That is not to say that all educational efforts are a waste of time. But the way that education is conducted in conventional schooling today is painfully inefficient.
Adults may think back on their own K-12 education and find little useful material retained or even applied in life. For example, what high school graduate still remembers the name of the preacher in The Scarlet Letter and the part he played in the story? Or what about the theme and purpose of the book? Of those of us who sat for umpteen hours in high school literature classes which of us can really still engage with the transcendentalist thought of Thoreau or remember a single thing that he wrote? Of the 2800 hours spent in a high school classroom, exactly how much does one retain or even apply in any of his dominion work and Christian life? What about the atomic weight of carbon, the gravitational force equation, the major battles in the American War for Independence, the derivative of a cosine, or the name of the first governor of the Massachusetts's Bay Colony?
Any education that fails to teach children how to fear God in science and history and neglects to adequately relate the parts to a whole system of thought, or fails to integrate that knowledge into life cannot be considered a good preparation for our children. In the end, it can only prepare our students to be very small cogs in a very large wheel. After 8400 hours of K-12 work, our children know very little about very little, and we find their potential was hardly mined for what it was worth. Education today has become a highly-inefficient ordeal that purports to give a child a broad-based knowledge, but it is an education that is a mile wide and an inch deep.
Quality vs. Quantity
The founding fathers of this nation were brilliant men - outstanding communicators, deep thinkers, and well read in the classics. Compare John Adams' or Patrick Henry's letters and speeches with the stumbling mutterings and the commercial sound bites produced by our current leaders and you will quickly note a vast difference in comprehension, literary ability, and rhetorical depth. Yet the education of our founders did not comprehend thousands of books over 18-22 years of study. These men focused upon a handful of books written by the best writers and thinkers in world history.
When it comes to literature, it would be much better to study four of the very best books ever written than to peruse a thousand books that will prove to be the best schlock produced by an empire in decline. Choosing just four of the best of authors or teachers instead of four hundred, produces a depth of learning unmatched by any other form of education. As you sit at the feet of these masters, you will actually learn their system of thought - their best attempt at constructing a cohesive, consistent world and life view. You will learn everything they know and see what they can see from their vantage point. Then you will be much better prepared to stand on their shoulders, as it were, in your own thinking or leading or writing. And this is how you will grow as a person and hopefully contribute to a developing system of thought and life in your own community, whether it be family, business, church, or civil government.
For some reason, education in the modern age became an extremely expensive, highly technical endeavor that really didn't accomplish all that much. Our founders did not buy curriculum. They learned Greek and Latin, and read the best books they could find. They were thoroughly acquainted with the Bible, Shakespeare, Cicero, Virgil and Livy. Patrick Henry, for example, read through Livy's historical survey every year. For these men, it was better to have a thorough understanding of a few of the best books than to have cursorily scanned a thousand books so as to come across as semi-literate in a dinner party.
Give Your Children Great Literature
Great literature merely chronicles the thinking and the lives of men as they build their empires and live a life they somehow think is worth living. Great literature is always written when the great towers are built. Typically, men quit writing anything worthwhile as the towers begin to crumble. This is what we find with Greece and Rome; and the same is happening with the modern empires of Spain, France, England, and finally America.
But there are always two cities or two kingdoms that make up the history of mankind. These cities coexist, yet they share little in common. Different periods of time and locations in world history will find more or less of one or the other of these cities absorbing man's existence and experience. The principle governing one city is subjugating power, and the principle that governs the other is that of love (Mark 10:42ff). The city of man serves man who always turns himself, or his king, or the state into a god. But the city of God serves the King of kings and Lord of lords, the crucified Savior who reigns from the right hand of the Father until He brings all of His enemies under His footstool.
Now, back to the discussion on education. There is much great literature to study in the history of man, some written by Christians and some by non-Christians. While it is important to survey the great literature produced in both cities, I would argue that the Christian student should direct special attention to that literature produced in the city of God. For the empires that are built on ideas formulated in the city of man inevitably crumble and fall, but the kingdom of Jesus Christ will continue forever.
The Very Best Education
Of course, the greatest literature is found in those sacred writings inspired by God's Spirit and contained in the Old and New Testaments of the Bible. Should our children know Shakespeare or Milton or Augustine better than they know the Bible, then we have failed to give our children an adequate education. I have produced intensive Bible Study Guides for families interested in an in-depth study of the Scriptures as the Core Curriculum of a Christian education.
But to think that our own minds are capable of understanding the Bible, the nature of God, man, and the world around us better than all of the brilliant minds of men who have gone before us would be pure, unmitigated hubris. Therefore, if there have ever lived men who have studied the Bible and attempted to formulate a world and life view around its contents, and have produced writings that millions of Christians have considered edifying throughout the ages, it would seem prudent to know some of this material.
In my early education, my own father supplied me with the best Christian books ever written, and I am doing the same thing for my children. Taking writers whose books have endured more than 300 years of history for their superb quality, I recommend Eusebius, Augustine, Bede, Anselm, A'Kempis, Luther, Calvin, Bunyan, Foxe, and Edwards for starters. What a shame that many Christian high school students spend far more time studying the transcendentalists, the Renaissance humanists, the Enlightenment philosophers, the feminists, the socialists, and the Unitarians, than they do the great Christian thinkers and writers! "But," some have told me, "We don't agree with the ideas expressed by certain of the great Christian thinkers and writers!" My answer is simple, "And you agree with all of the humanist thinking represented by the likes of Aristotle, Plato, Dante, Machiavelli, Tennyson, Dickens, Hawthorne, Alcott, Thoreau, Emerson, Hemmingway, and Steinbeck?"
Unless the goal of the high school regimen is to graduate our young students with an incoherent, muddled perspective of human thought, I think it would be better that they study a distinctive Christian world and life view. And this will render them competent to study other competing worldviews found in western literature and world literature. To accomplish this, we begin with the preference for quality over quantity, and the Christian worldview over the humanist in this all-important area of our children's education.
1 Myth, 2 Truths: How to turn good readers into good writers too.


by Andrew Pudewa


"Good readers will become good writers!" A mantra frequently heard in the lecture halls of academia, echoing along the corridors of junior high schools, and boldly preached from the homeschool conference lectern (most often out of the mouths of the more wizened and experienced parents and educators), this statement strives to be a truism. But it cannot be such, because it isn't true. At least not always. Certainly, it does happen that good readers can become good writers, but to extrapolate from that fact that good readers will automatically, naturally, and inevitably become good writers is to warp a truth into an untruth, which, when preached long and hard, becomes—if you will—a myth, an unfounded belief.

Further damage is done when this error becomes a basis for a teaching methodology. If encouraging children to read a great deal—combined with opportunity to write creatively—becomes the primary method of instruction in composition, few students will reach the level of success hoped for, and many will fall short of their need. How do we know this truism to be a myth? Look around. In any family, classroom, or group of kids, count the number of "good" readers; now check the percentage and see how many can be considered "good" writers. Half? One-quarter? Not a majority, for sure. Undoubtedly, the "good" writers in the group are likely to also be "good" readers, but why does one not follow from the other as we have been told? How do we understand and deal with the good reader/poor writer enigma? An astute teacher must ask these questions.

First of all, let us consider the definition of a "good writer." Competence in composition should mean being able to communicate ideas in understandable, reliably correct, and appropriately sophisticated language patterns. Brilliance, creativity, and originality are nice ideals, but exist far above and beyond "competence." Competence means having baseline skills necessary for success in the academic, business, or professional world, and by definition, competent writers are able to use language properly and effectively. Greatly lacking nationwide, competence must now—more than ever before—be the primary goal for teacher and parent.

One simple and immutable fact about the human brain is that you can't get something out of it that isn't there to start with. Supernatural inspiration notwithstanding, human beings in general—and children in particular—really can't produce thoughts or concepts that they haven't first experienced and stored. In other words, we cannot think a thought we don't have to begin with. Even the most unique, creative, and extraordinary ideas can only exist as a combination and permutation of previously learned bits of information. What does this mean for the writing teacher who desires to nurture competence? If what we need is a student who is able to produce "understandable, reliably correct, and appropriately sophisticated language patterns," then what we must put into the brain are those same reliably correct and sophisticated language patterns. Ah, then reading should do it, right?

Not always. In fact, it's an interesting observation, but many children who become early readers, independent readers—good readers--often do not store complete and correct language patterns in their brains. Good readers read quickly, silently, and aggressively. They don't audiate (hear internally) each word or even complete sentences. Generally, comprehension increases with speed, but speed decreases language pattern audiation because good readers will skip words, phrases and even complete sections of books that might hold them back. And to the extent that children don't hear (frequently) a multitude of complete, reliably correct, and sophisticated language patterns, such patterns are not going to be effectively stored in their brains.

So, what activity will allow children to store these complete, reliably correct, and sophisticated language patterns in their brains? Probably the two most important yet least practiced of all "school" activities: Listening (being read to out loud) and Memorization. These two are perhaps the most traditional of all language acquisition activities, and yet, in our modern educational culture, they have become the orphan children of the progressive parents of psychology and pedagogy.

One of the biggest mistakes we make as parents and teachers is to stop reading out loud to our children when they reach the age of reading faster independently. In doing so, not only do we deprive them of the opportunity to hear these all-important reliably correct, and sophisticated language patterns, we lose the chance to read to them above their level, stretching and expanding their vocabulary, interests, and understanding. We begin to lose the chance to discuss words and their nuance, idioms, cultural expressions, and historical connotations. And they lose something far more valuable than even the linguistic enrichment that oral reading provides; they lose the opportunity to develop attentiveness, the chance to experience the dramatic feeling that a good reader can inject, and even the habit of asking questions about what they've heard. Tragically, because of our hectic, entertainment-saturated, individualistic, test-obsessed, and overscheduled lives, few of us take sufficient time to read out loud to our students, even into their early teens—a sensitive period when understanding of language and understanding of life are woven together and sealed into the intellect.

Because linguistic information is best stored in the brain auditorily, children who have had read to them reliably correct and sophisticated language patterns for many years are much more likely to develop competence in written (and verbal) communication skills. However, there is another not-so-secret weapon in the sagacious teacher's arsenal: Memorized Poetry.

There is perhaps no greater tool than memorization to seal language patterns into a human brain, and there is perhaps nothing more effective than poetry to provide exactly what we want: reliably correct and sophisticated language patterns. Although rote memorization and recitation went out of vogue when the great god of Creativity began to dominate ideology in the Schools of Education, it has stood for centuries, even millennia, as the most powerful way to teach, to learn, to develop skills, and to preserve knowledge. By memorizing and reciting, you practically fuse neurons into permanent language storage patterns. Those patterns are then ready to be used, combined, adapted, and applied to express ideas in a myriad of ways. Additionally, because of the nature of poetry, poets are often compelled to stretch our vocabulary, utilizing words and expressions in uniquely sophisticated—but almost always correct—language patterns. A child with a rich repertoire of memorized poetry will inevitably demonstrate superior linguistic skills, both written and spoken, because of those patterns which are so deeply ingrained in the brain.

What's even more gratifying, however, is that children love to recite poems they have learned. Seeds of creativity are planted. Language emerges. Poems give words wings. And, if you do have your students memorize a poem, don't ever let them forget it! Say it once a day, or once a week, or once a month—whatever is necessary—to make it a permanently stored piece of art. Start with the funny ones; move on to the dramatic. Start short; gradually lengthen. Have fun and be proud of their accomplishments. If you can do that, the drudgery of "rote" learning will disappear, and the great joy of language will emerge.

So then, the one myth is that good readers will automatically become good writers. Not true. Many things about writing can be can be taught directly, but two timeless truths—the two most powerful ways to nurture competent writers—are to read to them, out loud, a lot, even when they could read it themselves, and to have them memorize great gobs of poetry, thus storing in their brain for life a glorious critical mass of reliably correct and appropriately sophisticated language patterns.
ENOCH'S 21ST ANNUAL HOMESCHOOL CONVENTION
JUNE 17th – 18th, 2011

CONVENTION UPDATE
The Convention is full speed ahead. We have exhibitors registering almost every day. Our attendee registration went live on March 15 and we have a good showing. Also, the volunteers are rolling in. If you attended in the past, you should have received a postcard in the mail telling you to download the brochure on our website. You can click here for the brochure: http://www.enochnj.org/media/enoch_brochure_11.pdf. As you can tell, the workshops have all been planned. Jeff Baldwin will not only be speaking to your teens but he will be speaking to the adults in a workshop on Worldview 101. In addition, Jim Weiss who will be handling our Children's Program has offered a workshop for adults as well. You too can learn about how important it is to telling a story to your child.
We are very excited to hear from Kevin Swanson and Andrew Pudewa. Kevin will be encouraging parents to renew their vision of homeschooling by "Capturing the Vision!" Also, Andrew will be speaking to us about true "Educational Freedomship."
ENOCH again is offering free admission to Parents of Preschoolers. If you wish to attend, you must meet the criteria of: 1) your oldest child is 5 years old or younger and 2) you have never attended the convention in the past. This is only available online at https://enochnj.webconnex.com/convention. If you have friends who want to know about this and are part of a MOPS group then pass along the flyer to the parents about free admission. That you can find here: http://www.enochnj.org/media/parents_of_preschoolers.pdf
We need you to spread the word throughout the state. If you are like most homeschooling families, you visit libraries all the time. Why not print the flyer about the convention and post it on the community board at the library. You can find the flyer here: http://www.enochnj.org/media/enoch_flyer_11.pdf
ENOCH is very excited to offer every family attending the convention a free CD worth over $250 of coupons, curriculum material and more.
There is so much more we can write here but you can look at it all yourself. Watch for details on our Facebook page as the days go by. Check our Exhibitor list every week to see whose been added.
Join us for the 2011 Homeschool Convention. We look forward to seeing you there and praying that everyone who attends will be refreshed, renewed and revived.
See you at the convention!
The ENOCH Board
ENOCH EVENTS
THE ANNUAL ENOCH ESSAY CONTEST
ATTENTION ALL HOMESCHOOLERS THE ANNUAL ENOCH ESSAY CONTEST IS NOW OPEN!
The Annual ENOCH Essay Contest is here for 2011!
Here are the topics for each age group:
Youngest group (6-9) topic- The Bible says "Be kind to one another". What is the kindest thing anyone has ever done for you, and how were you kind in return?
Middle group (10-13) topic- What was the most influential invention of the twentieth century?
Eldest group (14-18) topic- What person in the twentieth century has influenced your life the most?
The winning essays will appear in future ENOCH E-Newsletters, on the ENOCH website, and posted at the ENOCH convention!
Prizes:
6-9 years: $50.00
10-13 years: $75.00
14-18 years: $100.00
Prizes will be awarded at the Annual ENOCH Convention on June 17th-18th, 2011.
Eligibility: Must be a child living in New Jersey between the ages of 6 and 18 who is being home educated when writing the essay. Children of current or former ENOCH Board members are not eligible.
Judgment Criteria: Focus on assigned topic, theme, presentation, creativity, Christian world view and message.
Deadline: Must be received by end of the day – Sunday, May 1, 2011
How to submit: All essays must be emailed in plain text in the body of an email to contest@enochnj.org.
The Subject of the email should be "ENOCH Essay Contest".
Prior to the actual essay please include the following information:
Student's first and last name
Parent's first and last name
Family's mailing address
Family's telephone number
Child's birth month and year
Essays should not be submitted as an attachment to the email, as we may not be able to open attachments.
Essays will not be accepted by any other means such as mail or direct delivery.
Format: Essay written by a single author. Other literary forms of communication such as poems are not acceptable. Group submissions are not acceptable.
Length: There is no minimum length, but a length should be chosen that is age appropriate and adequately answer the topic question. The following also apply:
6 to 10 years: 800 word maximum
11 to 13 years: 1200 word maximum
14 to 18 years: 1500 word maximum
Winner Notification: Winners will be notified by email by June 10, 2011. They will be awarded their prize at the Convention on June 17th-18th, 2011.

ENOCH is on Facebook and Twitter, Too!
We are on Twitter and Facebook! Become a fan of
ENOCH of New Jersey
on facebook and Twitter! Find out all the homeschool happenings in NJ as welll as links, announcements, stories, etc. that are posted to help you. Tell every homeschooler you know! BECOME A FAN TODAY and join us on facebook and Twitter!
HOME SCHOOL LEGAL DEFENSE ASSOCIATION

Curious about the ENOCH Convention? Here's Some Info!
Dear HSLDA Members and Friends:
The Education Network of Christian Homeschoolers of New Jersey is coming to your area on June 17–18, 2011. The conference will begin on Friday from 2 p.m. to 9 p.m. and continue through Saturday from 9 a.m. to 6 p.m. This event will be held at the New Jersey Convention and Exposition Center, Raritan Center, 97 Sunfield Ave, Edison, NJ.
Be prepared for outstanding and encouraging speakers, such as Scott Woodruff, Kevin Swanson, Andrew Pudewa, and Jeff Baldwin. The conference will offer a teen program featuring Worldview Academy and Jeff Baldwin, and a children's program hosted by GreatHall Productions and Historical Happenings.
In addition, there will be over 100 vendor booths in the exhibit hall, most of whom will offer special discounts to conference attendees.
To pre-register for this conference, you can visit ENOCH's website.
For further information, please contact ENOCH, at 732-291-7800,
office@enochnj.org
, or visit them online.
Sincerely,
HSLDA, in cooperation with Education Network of Christian Homeschoolers of New Jersey
For more information about HSLDA visit their website:
www.hslda.org
OTHER EVENTS AND OPPORTUNITIES
One Day Homeschool Conference for Parents-CCOB-HEG
One Day Homeschool Conference for Parents
Saturday, April 16, 2011
Calvary Chapel Old Bridge Home Education Group
123 White Oak Lane, Old Bridge, NJ
8:00-2:30 pm
Cost: $30
It is with great please that Calvary Chapel Old Bridge Home Education Group (CCOB-HEG) brings to you their very first One Day Homeschool Conference for parents. On Saturday, April 16th, Scott and Marcia Somerville, homeschool parents, speakers, and authors of the Tapestry of Grace curriculum, will be sharing their insights at Calvary Chapel in Old Bridge.
Scott is a former HSLDA attorney, so you will not want to miss the opportunity to be encouraged in your homeschooling journey!
Mark your calendars, arrange childcare, and take time out to be encouraged. You're not going to want to miss this! Invite your friends.
The conference fee covers the conference, breakfast and lunch. You can go to
www.homeschool-life.com/nj/ccobheg
and click on the "Non HEG Conf Registration" link to register for this fantastic event. Online payment is also available here. Looking forward to seeing you there!
Any questions, please contact Liz Estevez at
estevez7@gmail.com
.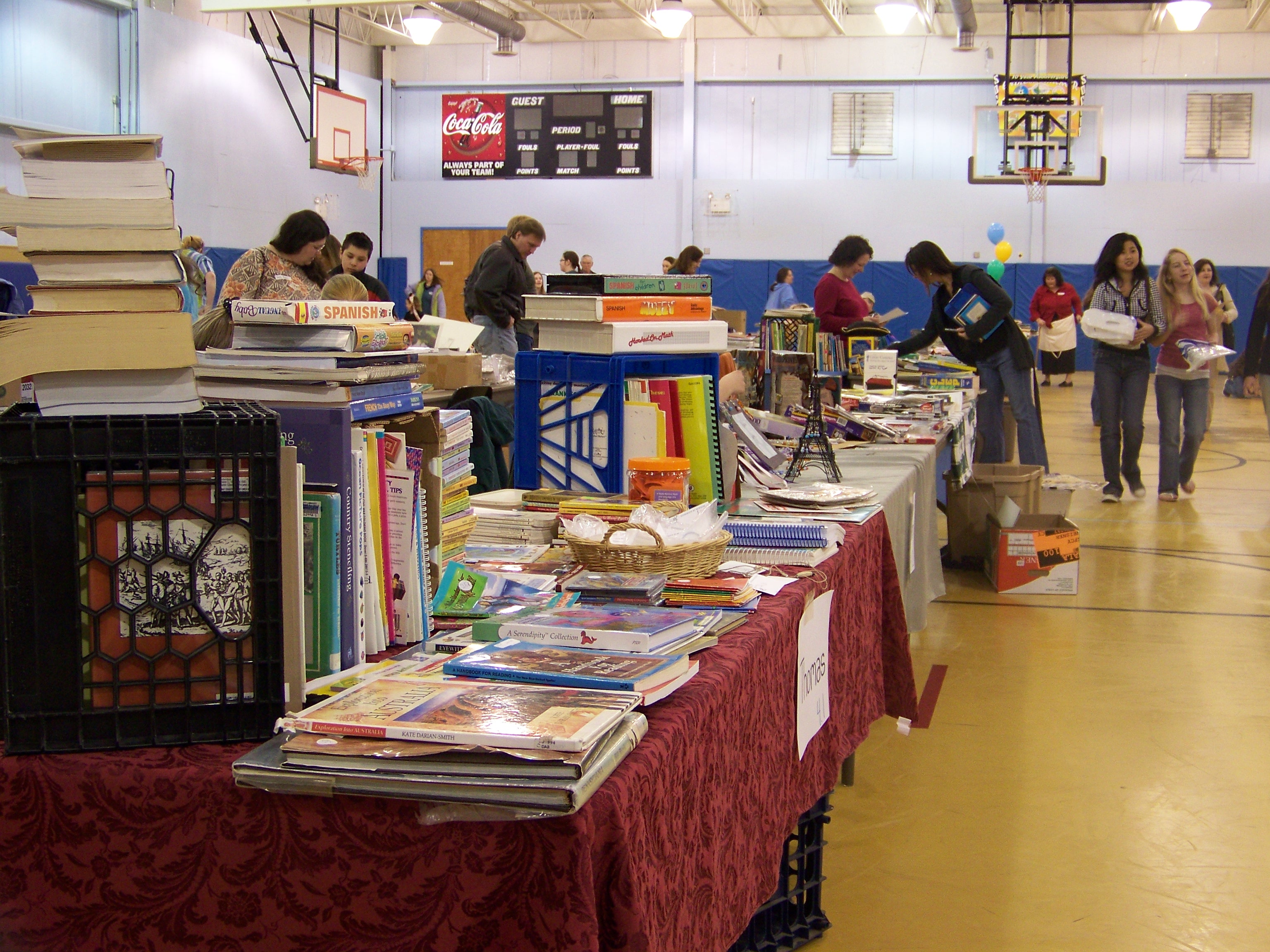 F.U.N. Curriculum Sale Tuckahoe, NJ
You are invited to the 7th Annual
F.U.N. Curriculum Sale
Hosted by Families United Network
DETAILS:
When: Saturday, April 2, 2011
Time: 9AM-1PM
Where: Upper Township Community/Recreation Center, 1790 State Highway 50, Tuckahoe, NJ (use directions link)
Last year we had over 50 long tables jammed with curriculum at fantastic prices - and we are planning for even more this year!
Seminars offered again - registration on
website
Enter our FREE drawing for a lunch concession deal AND an early bird shopping pass by signing our website guest book
Breakfast & Lunch concession available for our hungry shoppers!
We will have coffee, tea and baked goods available for purchase during the morning hours and lunch items (hot dogs, chips, etc.) available for purchase after 11:30AM.
Easy to reach from the Garden State Parkway.
Directions on website
http://FUNCurriculumSale.tripod.com
COME JOIN THE FUN!!
Homeschool Used Curriculum Fairs-Hackettstown and Howell, NJ
Homeschool Used Curriculum Fair
May 12, 2011
7-9 PM
Skylands Chapel
350 Willow Grove Street, Hackettstown, NJ
This curriculum sale is a service to fellow homeschoolers. Sellers are limited to homeschoolers ONLY but ANYONE is welcome to come and purchase! Tell your teacher friends!! This will not be a "yard sale" but rather an "educational items" sale. The items which can be sold must be education-related (i.e. curriculum / books/video and audio tapes / cd's / dvd's / games / legos/kinex, etc). Please, NO yard sale items.
Items made by homeschooled children can also be sold - i.e. potholders, scarves, refrigerator magnets, etc. This is a nice way to sell books/curriculum you are finished with and purchase needed items at the same time! Last year we had a great turnout. There were many wonderful books and materials available for sale at fantastic prices. We are looking forward to more of the same this year!
If you are planning on selling at the fair please RSVP at the website calendar to reserve a table by Monday, May 9th.
Any questions, please contact Michele Gross at
gross991@verizon.net
.
Homeschool Used Curriculum Fair/Bake Sale
May 19, 2011
7-9 PM
Cornerstone Calvary Chapel
6550 Route 9 South, Howell, NJ
This curriculum sale is a service to fellow homeschoolers. Sellers are limited to homeschoolers ONLY but ANYONE is welcome to come and purchase! Tell your teacher friends!! This will not be a "yard sale" but rather an "educational items" sale. The items which can be sold must be education-related (i.e. curriculum / books/video and audio tapes / cd's / dvd's / games / legos/kinex, etc). Please, NO yard sale items.
Items made by homeschooled children can also be sold - i.e. potholders, scarves, refrigerator magnets, etc. This is a nice way to sell books/curriculum you are finished with and purchase needed items at the same time! Last year we had a great turnout. There were many wonderful books and materials available for sale at fantastic prices. We are looking forward to more of the same this year!
This year we will be hosting a bake sale at the curriculum fair. Stop by for a sweet treat and healthy options too. All proceeds will go toward the REACH coop yearbook. (a ministry of Cornerstone Calvary Chapel)
If you are planning on selling at the fair please RSVP at the website calendar to reserve a table by Monday, May 13th. If you would like to donate toward the bake sale please make note of that when signing up.
Any questions, please contact Michele Gross at
gross991@verizon.net
.
Homeschoolers Support Network's Annual Used Curriculum Sale Lawrenceville, NJ
HSN's Annual Used Curriculum Sale will take place on Saturday, April 30, 2011 from 2-5pm, at Holy Trinity Lutheran Church in Lawrenceville, NJ.
For additional details, see our website at
www.homeschoolsupport.org
.
Montessori Elementary Homeschool Sessions
NJ-state/AMS certified teacher conducting supplemental homeschooling sessions in Bergen County.
My name is Suzanne Marie Amato. After years of teaching in both public and private schools, I realized the need for better alternatives to institutional education. After spending three summers in intensive Montessori elementary training, and sitting through many educational psychology classes, I realized something was missing in the translation from teacher-training to actual implementation in the classroom.
A passionate educator, I soon realized I could not promote change from within, so I decided to create my own program. Having spent many years with children of all ages, I realized what homeschoolers already know. You must, first and foremost, know the child. Their strengths, interests, and individual potential are the foundation for the intellectual, emotional and physical health of our children. The bond that parents have with their children is their greatest asset.
After establishing a solid relationship based on mutual respect with the student, the foundation for learning is set. I can then share my love of learning and critical thinking. I use a combination of classical and Montessori-based approaches.
I specialize in:
teaching critical thinking skills using Socratic reasoning
moving from the concrete to abstract in mathematical concepts
emphasizing cross-curricular connections
Discovery-based learning

If you are seeking a curriculum and don't know where to begin, I have a full curriculum including lessons and Montessori elementary materials for: K-6 Math, Geometry, History, Geography, Science, and K-8 Language Arts: including vocabulary, spelling, grammar, literature and writing. Or you can choose to join our existing group of homeschoolers who meet every Tuesday and Thursday for three-hour sessions of Math/Geometry and Language Arts. Rates are $10.00/hour/student for group sessions of 3 or more students. Literature circles are also available for the same group rate.
What makes our groups unique:
A combination of Montessori and classical-based approach to learning.
Lessons are customized to your child's ability level and background knowledge.
An environment rich with engaging manipulatives and a wide variety of resource materials is provided.
Multiple Intelligences are assessed to determine your child's strongest learning style.
Through many years of research and training, I have also created my own Literature and Writing program based on higher-level meta-cognitive comprehension strategies and the 6 Traits of Writing. Also available are Languare SAT prep, preparation for state testing and high school entrance exams. One-on-one tutoring is very affordable and can be conducted weekday mornings, evenings and Saturday mornings.
Please call 201-439-0601 or email
Lv2reed@aol.com
for more information.
Come join our group and watch your child's passion for learning blossom!
LIVE ONLINE CLASSES FOR HOMESCHOOLERS!!!
SAT MATH PREP * MATH * PHYSICS * COMPUTER PROGRAMMING
LIVE ONLINE CLASSES FOR HOMESCHOOLERS!!!
____________________________________________________________
See http://phil4.com for summer and fall schedules regarding all live online classes for homeschoolers.
I, Dr. Christian Seberino, know how to prepare you for the SAT, teach you math, teach you physics and teach you programming. I do it all
live online from the convenience of your home!
Here are the upcoming SAT Math Prep classes:
SAT Math Prep (Apr 04 - Apr 25) Mon 10:30 - 1:30pm
SAT Math Prep (Apr 08 - Apr 29) Fri 10:30 - 1:30pm
SAT Math Prep (Apr 09 - Apr 30) Sat 10:30 - 1:30pm
SAT Math Prep (May 07 - May 28) Sat 10:30 - 1:30pm
Here are the accelerated summer classes:
Summer Algebra 1 MF 10:30 - 11:20am CST
Summer Geometry MF 11:30 - 12:20pm CST
Summer Computer Programming MF 12:30 - 1:20pm CST
Summer Algebra 2 MF 2:00 - 2:50pm CST
Summer Precalculus MF 3:00 - 3:50pm CST
_____________________________________________________
Here is the fall line up:
Fall Prealgebra MF 10:30 - 11:20am CST
Fall Prealgebra TTh 3:00 - 3:50pm CST
Fall Algebra 1 MF 11:30 - 12:20pm CST
Fall Algebra 1 TTh 2:00 - 2:50pm CST
Fall Geometry MF 12:30 - 1:20pm CST
Fall Geometry TTh 10:30 - 11:20am CST
Fall Algebra 2 TTh 12:30 - 1:20pm CST
Fall Precalculus MF 3:00 - 3:50pm CST
Fall AP Calculus AB MF 2:00 - 2:50pm CST
Fall AP Physics B TTh 11:30 - 12:20pm CST
_______________________________________________________
Sign ups are happening now at
http://phil4.com
. For more information
contact me at
chris@phil4.com
or visit
http://phil4.com
.
One-On-One Tutoring in Southampton, NJ
Problems with Reading and Spelling? I offer one-on-one tutoring in my home (Southampton, NJ) to children and adults of all ages and disabilities. I am a certified Orton-Gillingham instructor, as well as a retired homeschool mom. Limited openings. For more information contact Renee Cugliotta at 609-859-3856.
American Sign Language Tutor
I'm an American sign language tutor I have been using sign language all my life. I tutor college students through the Interpreter Training program. I also tutor children and adults who are interested in learing. I also work with the Early Intervention program for children who are disabled. If you are expressing any interest you may email me at
meadefish@verizon.net
or text me at 732 604 1025 I have excellent credentials and references upon request. Teaching materials are easy and reliable.
Spanish, French and Chinese Classes
Full immersion Spanish, French and Chinese classes for children 2-13
Fall, winter, and spring sessions & summer camp!
Spring session beginning soon - the week of 4/19.
Spring classes held in Long Valley and Flanders, but please call us to form your own class (5 child min.)
10 week session - regulary $199, but $179 with coupon code
spring
Additional discounts for siblings, a rent-free facility or class of 10 or more (children must be within 2 years of each other).
To register or obtain more info, please visit
www.langoNWnewjersey.com
. You may also contact our president Agnes Beede at
langoadventures@gmail.com
or 872-228-KIDS (5437).
Homeschooling A Child With Autism
Are you homeschooling your child with Autism or would you like too? Homeschooling is the perfect environment to allow your child that second chance through Relationship Development Intervention. RDI is an intervention that focuses on dynamic intelligience and restoring your child's missed social and emotional milestones. This will help your child understand the social world and share your perspective. There is no limit to your child's potential when they are competent in their social understanding . Please visit me at
www.autismremediationforourchildren.com
or
http://whatisrdi.blogspot.com/p/why-this-blog.html
for more information contact: Kathy Darrow at 609-315-4416.
PIANO TUNING
Springtime is here! Keep your piano sounding its best with a tuning by homeschooling Dad Dave.
Contact Dave Darrow at (856-261-9594) or
k.darrow@verizon.net
. Mention
ENOCH
and receive 10 percent off your tuning.
PIANO Instruction

Private One-on-One Lessons in Your Home
FOCUSING ON THE BEGINNING PIANO STUDENT
For more information contact: Toni Russo at 973-960-9797
Daytime and Evening Sessions Available
Over 25 Years Experience


Bergen County 4-H Announces Expressive Arts Workshop Sign-ups!
Lead, learn and grow with 4-H! Our new Expressive Arts Clubs are about to begin! These free clubs will be held at local libraries throughout Bergen County.
Experience the amazing world of dramatic arts through imagination, skits, acting and fun. Open to all students in grades kindergarten through 8th grade. For additional information, contact Monique Bliss at 201-336-6785 or
bergen4h@aesop.rutgers.edu
. Get involved now and make the "best better"!
ABOUT 4-H: The Rutgers Cooperative Extension 4-H Youth Development program uses a learn-by-doing approach to enable youth to develop the knowledge, attitudes , and skills they need to become competent, caring, and contributing citizens of the world. This mission is accomplished by using the knowledge and resources of the land-grant university system, along with the involvement of caring adults.
For more information about Bergen County 4-H contact: Denise Monesteri, Program Assistant at 973-489-4102 or
bergencounty4h@aol.com
. Visit
Bergen County 4-H
website to learn more.
HORSEBACK RIDING LESSONS
HORSEBACK RIDING LESSONS - LARGE INDOOR ARENA (856) 252-7075 - Contact Regina Ennis
Something new for your Phys Ed classes? We are a Christian family who owns a horse farm in Central NJ, (at 850 Monmouth Road - on Route 537 - just down the road from Six Flags Great Adventure, right off Rt 195) and we would love to welcome homeschooling families. In past years, we homeschooled our own children who are now in college, and are aware of the challenges facing homeschooling parents to find good choices for activities. Our facility has a large indoor arena (80X200), with full jump course, to facilitate all-weather riding with minimal cancellations due to weather. We have a nice variety of horses and ponies for lessons and pony rides. In addition to riding lessons, our program offers a full equestrian science education program offered through 4H, that includes classroom lessons on the ground (unmounted) as well as full instruction in the saddle (mounted). Our instructor is also experienced in teaching special needs riders (Down Syndrome, Cerebral Palsy, ADD, ADHD). Horseback riding lessons available to all homeschooling families at discounted rates-flexible schedules to accommodate your needs. Groups (such as Brownies, Cub Scouts, Girls Scouts, and Boys Scouts) welcome!
Lesson Program
Both Western and English disciplines taught with an emphasis on safety and balanced seat riding. Beginners to advanced riders welcome!
* 1 Hr. Private Lesson: $45.00 per hour
* ***SPECIAL PRIVATE PACKAGE: 10 Private 1-Hour Lessons for $395. Must be prepaid and used within 3 months. You may take multiple lessons per week.***
* 1 Hr. Semi-Private/Group/Sibling: $30.00 per student (limit 4 per lesson) Private lessons required until student safely handles horse/pony on own. (Sometimes riders will share same mount until they are safely able to independently handle their own horse/pony.
* **SPECIAL GROUP/SEMI-PRIVATE PACKAGE: 10 1-Hour Lessons for group/semi-private lessons for $270.00.
HELD OUR FIRST FUN AND GAMES HORSESHOW ON MARCH 20, 2011. NEXT ONE IS SCHEDULED FOR MAY! HOPE TO SEE YOU THERE!
SUMMER HORSEMANSHIP RIDING CAMP -CAMP SPECIAL PRICE IF SIGNED UP BEFORE MAY 1-$260/JUNE 1-$290/AFTER JUNE 1-$330
June 27-July 1/July 11-15/ August 1-5/August 15-19 Regular price after June 1 is $330 for the week. (10% Multiple Session/Sibling Discounts Offered) Please call for details/questions. Camp Hours 8:30am-4:00pm. Limited to 12 campers per session-Riding Skill Levels: Beginners to advanced riders are welcome. Avg. of 4 Hours of riding per day!
4H Club Membership -Freedom Riders 4H Club
Free-meets twice per month-2nd and 4th Saturdays!
Fun and Games Shows held on our farm! Ribbons and trophies given to division champions, but it's all about having fun on horseback! See our Facebook Page for details and Pics of our equine friends and families! Next show is in May! Hope to see you there! $60 for day or $8 per class! Call for details.
Special Group Rates
Clubs such as Boys' Scouts, Girls' Scouts, other 4H groups, etc. ($25 per scout/club member) Minimum of 6 members for group lesson discount. Actual lesson not just a pony ride!
Please mention your membership in
ENOCH
and this ad when calling to receive the discounted rates.
Call Regina for available times and appointments, (856) 252-7075. See our Facebook page for Freedom Farm USA and my page, Regina Ennis.
Visit our website at
www.Freedomfarmusa.com
***Special Extended Horsemanship Program***
When you are a part of our WEEKLY lesson program, you may come out and help exercise our horses/ponies on Saturdays at our farm. That allows you to get extra riding and some instruction at no extra cost-call for details. Affordable Horseshowing opportunities as well for those interested! Our riders regularly participate in local shows.
~~~Where the Spirit of the Lord is there is freedom.~~~
HOMESCHOOL TENNIS
Homeschool Tennis with Coach Ike Johnson
Tuesdays starting April 5th and Thursdays starting April 7th
Cost is $5.00 a lesson payable each week
Ages 5-10 play at 1pm
Ages 10 through adults at 2pm
Courts on Willow Turn in Mount Laurel. Right off of Larchmont Blvd. and Rt. 38.
Contac: Jacqui Zollner
wmjz@earthlink.net
, 609-702-8345 home
Homeschool Swimming at the Berkeley Swim School
The Late Spring swimming program at Berkeley will begin on May 15 and will run for 6 weeks
The registration for this session begins on Wednesday, April 27 at 10AM
Summer classes are everyday and will run through August 6
Fees have been reduced for Homeschool students
Other classes are available at regular Berkeley Swim School rates.
For more information visit:
www.berkeleyaquatic.org
(click on Swim School)
OR contact Towney Brewster, The Berkeley Swim School Director: 908-464-1995
or PO Box 215, 649 Springfield Avenue, Berkeley Heights, New Jersey 07922.
ROLLER SKATING-CHERRY HILL SKATE CENTER
Dates for roller skating for the upcoming year!
Where:
Cherry Hill Skate Center
, Deer Road, Cherry Hill NJ
Remaining dates:
Friday, April 15
All dates are 3rd Fridays and it is always 1-3PM.
For more information contact Linda at:
homeschoolbus@gmail.com
NATURE'S CLASSROOM at Pyramid Mountain Natural Historic Area

Pyramid Mountain Natural Historic Area in Montville Twp is offering science programs for home school children ages six to twelve years. Each session consists of four two-hour classes that are hands on and suited for experiential learners.
Classes are:
Tuesdays, 1:30-4pm for 6-8 year olds on April 5, 12, 19, & 26
(topics: Water Cycle, Birds, Reptiles, & Wildflower Hike)
Thursdays: 1:30-4pm for 9-12 year olds on April 7, 14, 21, & May 5
(topics: Leave No Trace Principles, Mapping, Tracking, & Navigation Hike)
Pyramid Mountain Natural Historic Area - 472A Boonton Ave - Montville Township
The 4-week sessions are $45 or $12 per class/ non-refundable payable upon registration. Each session is limited to 12 students.
FAMILY HOMESCHOOL WALKS
At Pyramid Mtn on the following Wednesdays from 1pm to 2:30pm
April 13: Dirt Made my Lunch
Explore soils and their importance to life on Earth with activities and a guided walk.
May 18: Stream Ecology
Put on your water shoes and get into the stream to study this habitat and its critters.
Walks are for all ages; cost $8 per child age 3 and older.
To register or for more information on the programs listed:
- call Pyramid Mountain Natural Historic Area: 973-334-3130 or e-mail Douglas at
dvorolieff@morrisparks.net
For more information on Pyramid Mountain Natural Historic Area and Morris County Park visit
www.morrisparks.net
Adventure Safaris
Imagine excavating dinosaur bones that haven't seen the light of day since Noah's Flood…Russ and Tricia McGlenn with Adventure Safaris (Twin Cities Creation Science Association) invite you and your family on the family vacation of a lifetime! Come and experience the thrill of digging up dinosaurs and cleaning and preparing the bones for museum display. From finding the bones to seeing where they go in the museum, this truly is the best family vacation ever! Camp site included in price. One to three creation science talks a day. Cost approx. $1,000 per family ($350 for student only). Beginning July 3, 2011. South Dakota .
For more information, visit
http://www.tccsa.tc/adventure
Them bones are waiting for you!
The New Jersey Renaissance Faire
Enjoy a Day of Renaissance Edu-tainment!
The New Jersey Renaissance Faire
"2011 School Day at the Faire"
Friday, June 10, 9am-2pm
Come visit the teaching artists of the prestigious New Jersey Renaissance Faire in the Shire of their native domain, while allowing your students to participate in the Golden Age of English History! Interactive historical characters and figures of myth and legend interact with your students to make them feel a part of history. Your students will bear witness to exciting shows that will both entertain and educate, while giving students a truly memorable experience!
A Magical Experience They Will Never Forget!
Edu-tainment such as:
A Tournament of Arms: Experience the pageantry and valor of a full scale historical joust. Action and horsemanship in our full sized joust field!
Shakespeare, the Bard of Avon: Meet William Shakespeare and watch him perform scenes from his famous plays. Learn about the theatre and English literature from the man himself, the Bard in person!
Human Chess Match: Watch professional actor/stuntmen put on a full show of staged combat in a thrilling full-length human chess match at our Lakeside Amphitheater.
Falconry: Learn the history of these noble birds of prey and their relationship with the people of England to this day. See the noble flight of hawks and falcons before your very eyes.
Hamlet: Watch a live, abridged version of William Shakespeare's masterpiece, Hamlet, the Prince of Denmark- in a non-electronic, real world, 3-D, wooden lakeside theater!
Manners and Mannerisms: Our very own Sherriff, Marshall Law will take the students through lessons in the customs and manners of the Renaissance. Don't forget to bow!
Historical Glassblowing: Witness our very own glassblower give demonstrations of the craft of glass blowing through the ages, from the ancient Greeks all the way to the present day.
Visit our Smithy: Our very own smith will show you around the workings of his forge as he bends the metal to the will of his hammer.
The Legend of King Arthur: This year our shire will be visited by King Arthur and his Knights of the Table Round. Interact with this essential English myth as he does battle with his enemies Mordred and Lady Morgan. Also meet with Merlin and Lancelot and encounter the beauty of Lady Guinevere.
Admission: Only $12 per Student
Chaperone per every 10 Students is Free
Includes discount passes for the Weekend Faire
Assorted Food and Vendors on site. All-Inclusive Lunch Packages available
Discounts for groups of 100 or more

School Day at the Faire: Friday, June 10
New Jersey Renaissance Faire, at Liberty Lake: June 4/5 & 11/12
For more information visit:
www.NJRENFAIRE.com
or call (888) 864-8222
Six Flags Great Adventure Homeschool day

2011 event information is HERE! Homeschool day will take place on May 5, 2011.
NEW for 2011 - Every person who attends the catered buffet on Thursday May 5th will receive one FREE "play again" admission ticket to return to the park before October! (You must also purchase a park admission ticket).
EXCLUSIVE EDUCATION DAY - THEME PARK IS ONLY OPEN FOR STUDENTS
Learn about Radio Marketing from top professionals - Showcase Theater 11am
Compete in the Homeschooler division of the Business & Marketing Challenge
Speak to local organizations about what it takes to make it in their industry.
HOMESCHOOLER EXCLUSIVES
Drive through our 350-acre wild life preserve with more than 1,200 animals open only to Homeschoolers from 9am - 2pm.
Be a part of a Homeschooler only Dolphin Discovery Presentation - 3pm (time subject to change)
Eat lunch in a private pavillion reserved only for homeschooling familes - Old Country Picnic Grove 12-1pm
SAVE TIME - PUCHASE ONLINE!
Print admission tickets right from home with no minimum quantity!
To download the Homeschool Day group order form or make a purchase online go to:
www.sixflags.com/greatadventure
use the promocode:
HOMESCHOOL
As always visit
sixflags.com
for up to date information and downloads.
For more detailed information you can contact:
Special Events
Six Flags Great Adventure
Hurricane Harbor NJ & Wild Safari
P: 732-928-2000 x2850
F: 732-833-0116
njspecialevents@sixflags.com
See you at the park!
GREAT WOLF LODGE Pocono Mountains Resorts Summer Homeschool Splash
Summer Homeschool Splash - June 5-9, 2011.
$179.00 for a family suite up to 6 per room.
Get away with the entire family at our colossal indoor waterpark resort featuring 401 spacious accommodations. Located right in the heart of the beautiful Pocono Mountains, you will refresh your mind and body. Best of all, you'll put a smile on everyone's face!
So clear your calendar, pack the swimsuits, and head to Great Wolf Lodge, where weatherproof vacations and endless fun are our specialty. Experience a 90,000-sq. ft. indoor entertainment area featuring a spectacular indoor waterpark, exciting arcade, luxurious spa, and fantastic restaurants-all under one roof. Visit
GreatWolf.com
for complete details.
OFFER VALID:
June 5-9, 2011
GROUP NAME:
Summer Homeschool Splash
GROUP CODE:
1106SUMM
To make reservations visit
GreatWolf.com
or call 800-768-9653 for complete details. When prompted use group code:
1106SUMM
---
PUBLICATION DATES
ENOCH of NJ e-Newsletter NEXT DEADLINE
Here are the deadlines for the upcoming ENOCH of NJ e-Newsletters. The deadlines are firm and coordinated so that we can get you a fresh newsletter by the first of each month. Thanks.
May 2011 issue: Monday, April 25th
June 2011 issue: Wednesday, May 25th
July 2011: There is no newsletter this month.
Send all submissions to
newsletter@enochnj.org
. This deadline serves the purpose of allowing time for editing and formatting the newsletter in order that time-sensitive information can be posted and mailed in a timely manner.
Final editing begins at the deadline. Submissions prior to the deadline are always welcome and encouraged.
Posting and emailing is normally by the 1st of the month (except for the June issue).
Thanks for your help in getting the newsletter delivered promptly.
SUBSCRIBE TO ENOCH'S e-NEWSLETTER
Why and How to Subscribe
If you are not already subscribed to this newsletter, you can subscribe now! If you would like the e-Newsletter delivered directly to your e-mailbox each month, go to Monthly Newsletter link on our website at
www.enochnj.org
.
Encourage your support group members to subscribe to the ENOCH email list! Include this portion of our newsletter in your monthly hardcopy newsletter. Get the word out that this newsletter is for them! We use our subscription list to notify the homeschooling community of changes to our website, of the Convention and our Leadership Conference, alerts, and other important news.
All submissions desiring consideration for publication in the e-Newsletter should be sent to
newsletter@enochnj.org
. Thanks.
ENOCH of NJ
Box 308
Atlantic Highlands NJ 07716
732.291.7800
office@enochnj.org
www.enochnj.org
Neither the ENOCH e-Newsletter, nor the Board of Directors for ENOCH New Jersey, endorses nor recommends any of the non-ENOCH programs, events, or opportunities listed. They are selectively provided as a service to those who wish to explore further. To remove your email from this mailing list, click here:
http://www.enochnj.org/index.php?ACT=5&id=ZEbMxuzeJH